Green World Group is a pioneer in offering training to individuals and working professionals on various facets of achieving industrial safety and health environment. The courses offered by GWG are tailor-made to meet the requirements of the industry on occupational safety and management. Some of the courses offered by the institution include: NEBOSH, IOSH, HAZOP, HACCP and diploma courses which are offered through class room coaching and also through online and distance education programmes.
NEBOSH-IGC course is one of the most revered training programmes on work place safety offered by an independent UK-based board. The board authorises hundreds of educational institutions across the world to impart knowledge on health, safety and environmental issues related to workplaces. In India, Green World Group is conducting NEBOSH-IGC classes for workers and HSE professionals.
NEBOSH IGC – PATNA
NEBOSH –IGC helps students to become thorough HSE professionals, who can formulate their own ways of dealing with various safety issues at work places. Besides, the course also helps the working professionals to scale new career heights. NEBOSH-IGC course trains unskilled workers and students, who want to be associated with vocational safety and health sector, to become safety experts.
For Nebosh Course Offer Please Click here: Nebosh Offer Patna
Excellent course training from Green World Group!! 
NEBOSH-IGC Training  – Patna, Bihar (India)
OPEN CHALLENGE OFFER !!
NEBOSH IGC – PATNA
Join NEBOSH International General Certificate & Get HAZWOPERM + MOC + BBSM + First Aid at Work + Fire Safety + COSHH
Only Limited Seats.. Hurry Up for Early Booking
FREE QUALIFICATION
Control of Substances Hazardous to Health (COSHH) – KHDA DUBAI GOVT Approved
Essentials of Fire Safety Principles – KHDA DUBAI GOVT Approved
First Aid at Work – KHDA DUBAI GOVT Approved
BBSM – Behavior Based Safety Management – (CPD UK Certified)
HAZWOPERM – Hazardous Waste Operation and Emergency Response Management – CPD UK Certified
MOC – Management Of Change in Process Safety – CPD UK Certified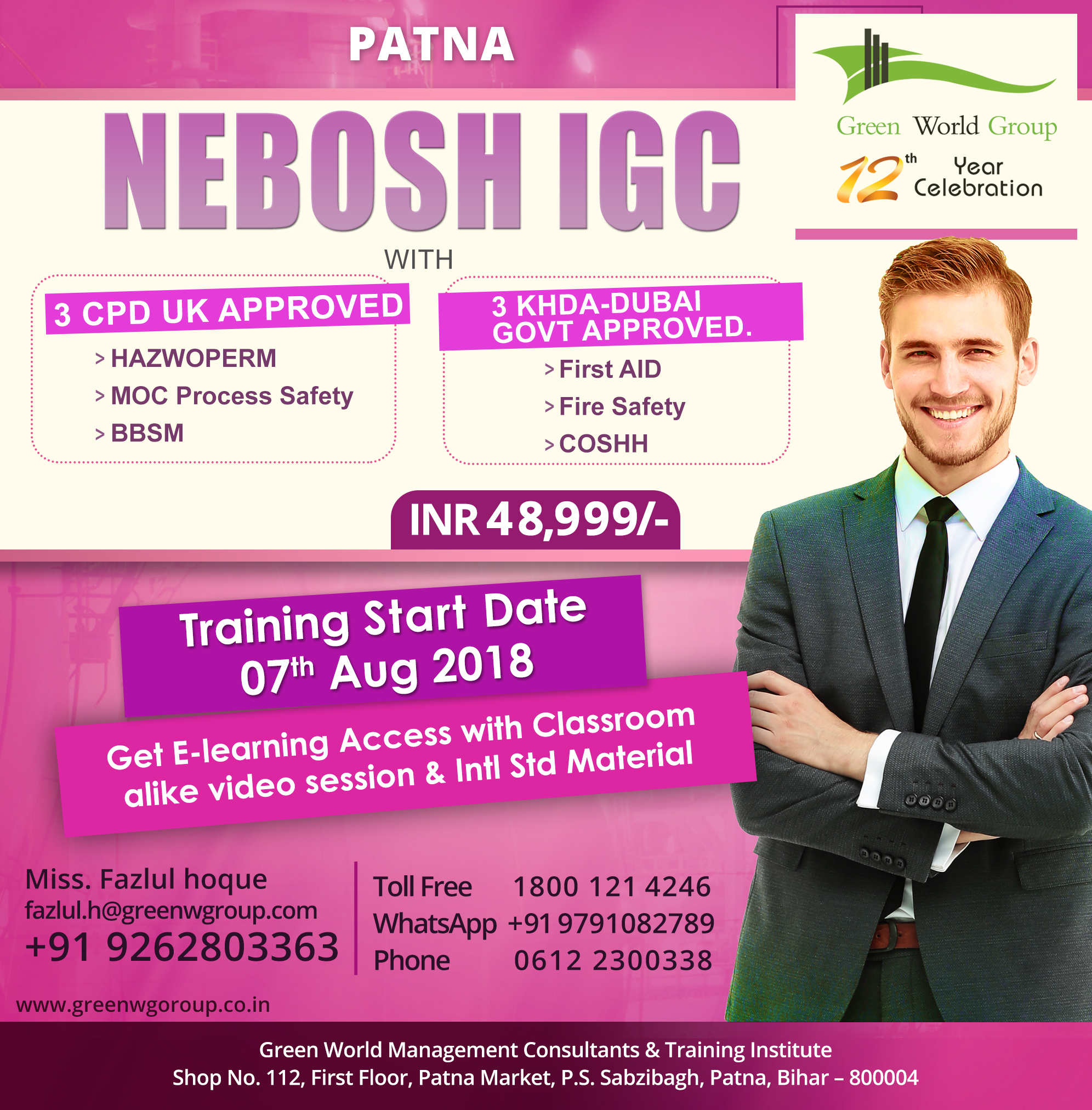 For other safety courses Offer and Details Please Click: http://www.greenwgroup.com/patna-course-details
---
For Enquiry & Enrollment:
Toll Free 1800 300 20676 (South India) | 1800 121 4246 (North india) | Whats App : +91 9791082789
---
Mr. Fazlul hoque
Academic Counsellor
Email: fazlul.h@greenwgroup.com
Telephone: +91 9262803363.
---
Green World Group
Shop No. 112, First Floor,
Patna Market, P.S. Sabzibagh,
Patna, Bihar – 800004
Tel : 0612-2300338