Green World Group is delighted to announce that grab the exciting offer for Nebosh  Course in Kolkata    and with IOSH MS & HABC Level 2 fire safety certifications absolutely free. We are conducting 10 days training program includes 1 day revision/mock up prep test. Complimentary E-learning access for the course prior to start of training session that ensures the candidate has a fair knowledge of the subject.
Any student taking this course will have the knowledge and skills required to apply best practices within their workplace and to identify and control any workplace hazards. Perfect for managers and supervisors, this course is also suitable for those looking to go aboard on a career in health and safety.
SUMMER SPECIAL BONANZA OFFER FROM GWG !!
Pay for NEBOSH IGC & Get 5 International HSE UK Courses worth Rs.51,000/- Free !!
IMS Integrated Management System (ISO 9001:2015, ISO 14001:2015 & OHSAS 18001:2007)
INTERNAL AUDITING COURSE – IRCA STANDARD
HAZWOPERM – HAZardous Waste OPeration and Emergency Response Management, CPD UK Approved
MOC – Management Of Change in Process Safety, CPD UK Approved
BBSM – Behavior Based Safety Management, CPD UK Approved First Aid Course –
RoSPA UK Approved @ Rs. 28,999/-*
Valid Till : 20th MAY 2017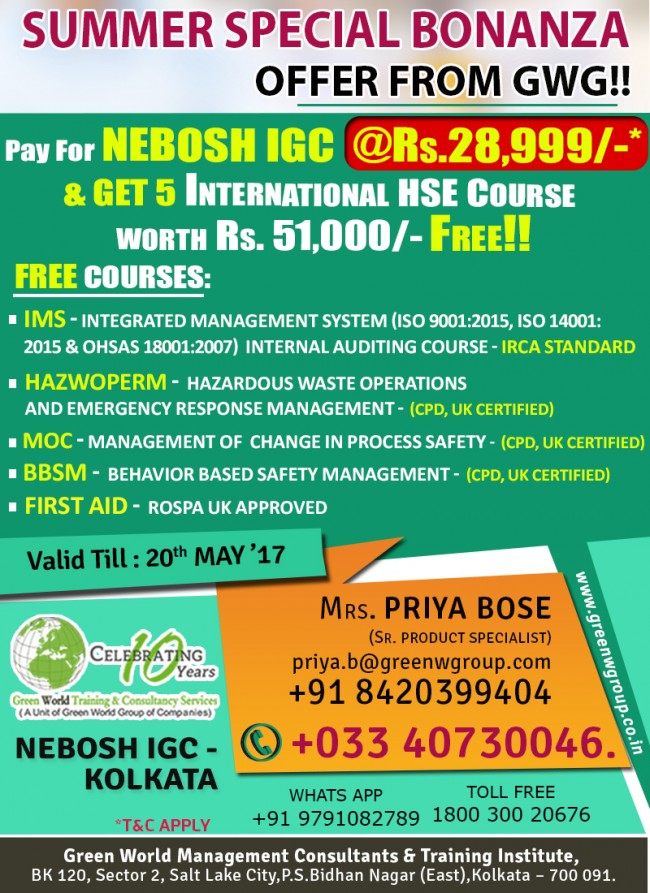 Green World Group is the best safety educational training institute and consultant in across the global.
Come with join us and feel the better professionalism.
Limited Period Offer!! Book your seat now.
For Kolkata contact:
Ms. Priya Bose | Marketing Executive
BK 120, Sector 2, Salt Lake City,
P.S.Bidhan Nagar (East), Kolkata – 700 091
Tel:+033 40730046. Mobile: +91 8420399404.
Email: priya.b@greenwgroup.com