Let Green World Group LLC Help Prepare You for Your NEBOSH IGC Certificate
With an excellent exam pass rate, GWG are well placed to prepare you for your NEBOSH IGC Certificate.
It provides a basic grounding in health & Safety essentials in the following areas;
* Concepts of Health & Safety Law
* Policy
* Risk Assessment
* Accident Investigation & prevention
* Culture Monitoring
* Identification & Control of Hazards in a wide range of areas
GWG's Lightning Deal!
Looking for career Upgrade!!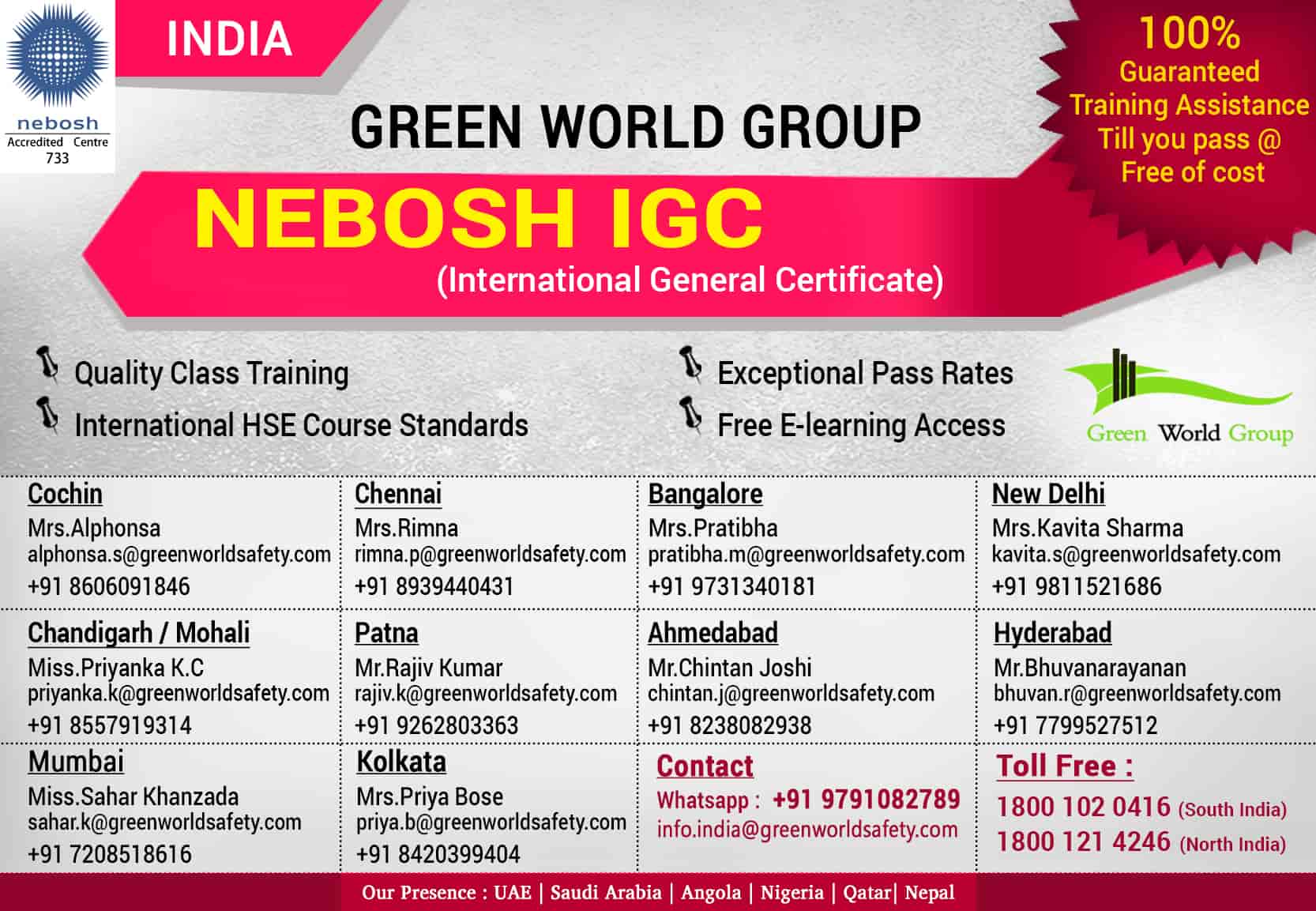 The NEBOSH International Certificate provides organisations with a global presence seeking to adopt an internationally recognized health and safety training programmer. It is a unique international health & safety standard award. It has the same format & content as the National Certificate but focuses on internationally recognized health & safety standards & priorities (ILO/18001) & best practice in controlling hazards.Special limited offer discount for unemployed – Fast track back to work in health & safety field
The Course is For
The NEBOSH International General Certificate is available to non UK nationals, employees of large organisations operating outside the UK, or multinational companies already working to international standards but needing to adapt these to accord with local needs and practice. It has been designed for personnel e.g. managers, supervisors, non-safety specialists, worker representatives who have both general and specific Health and Safety responsibilities within their organisation.
Learning Outcomes of the NEBOSH International Certificate
Understand the management framework, moral & economic requirements & implications for good standards in health & safety within an organisation.
Develop, promote & communicate an effective health & safety culture in an organisation.
Identify the key features of a health & safety policy, the preparations & performance review of a health & safety audit. Understand the importance of proactive & reactive health & safety monitoring measures.
Identify hazards in the workplace & carry out risk assessments, record findings & review procedures.
Advise on strategies for controlling hazards, reducing risks & applying safe systems of work.
Identify fire hazards & consequential risks, advise on measures to minimise fire risks & develop fire procedures.
Identify ill health effects of physical processes of work & the environment & recommend suitable measures to combat risks.
Explain the processes & procedures for investigating & reporting accidents at work.
Additional option of 1 day to cover local, legal requirements (non examinable ).
India Head Office – Chennai
Green World Mgmt & Training Institute
Mrs. Rimna ( NEBOSH course in Chennai )
Product Specialist
rimna.p@greenworldsafety.com
+91 8939440431
Green World Management
# 5/12 Ambalavanar Street,
100 feet road,Arumbakkam,
Chennai – 600 106
Tel :044 24750740 | 044 42845419.
info.india@greenwgroup.com