With an exam pass rate well over 90%, GWG are well placed to prepare you for your NEBOSH IGC Certificate.
We have now dropped the price of our NBOSH IGC Certificate for our open courses

.
The results of the Feb 2011 Nebosh international General Certificate exams have just been released by NEBOSH and once again we're delighted to congratulate our students on another great set of results. The exams for this award consist of two written papers (IG1 and IG2) and one work-place assignment (IG3).
NEBOSH exams are challlenging. The overall NEBOSH pass rates for the three exams at all centres were( IGC-1)58%,(IGC-2) 58% and (IGC-3)89% respectively.
The pass rates for our students were 100%, 78% and 100%, well in excess of NEBOSH averages. Well done to all students.
If you or any of your colleagues have a NEBOSH qualification, I can definitely say you have earned it.
We run the International Certificate course which covers International legislation .  It is also worth enquiring about the centre's previous results.
A NEBOSH qualification is very worthwhile for anyone considering embarking on a career in Health and Safety. We run  the NEBOSH IGC and IOSH, OSHA , ADOHSEM courses. The next intake of people for both courses will be in Oct/Nov/Dec.
GWG's Celebrating 850th Batch Offer!!!!
NEBOSH IGC – Chennai !!!
Only Limited Seats.. Hurry Up for Early Booking
GET FREE TRAINING UNTIL YOU PASS THE EXAM !
INR 49,999/-*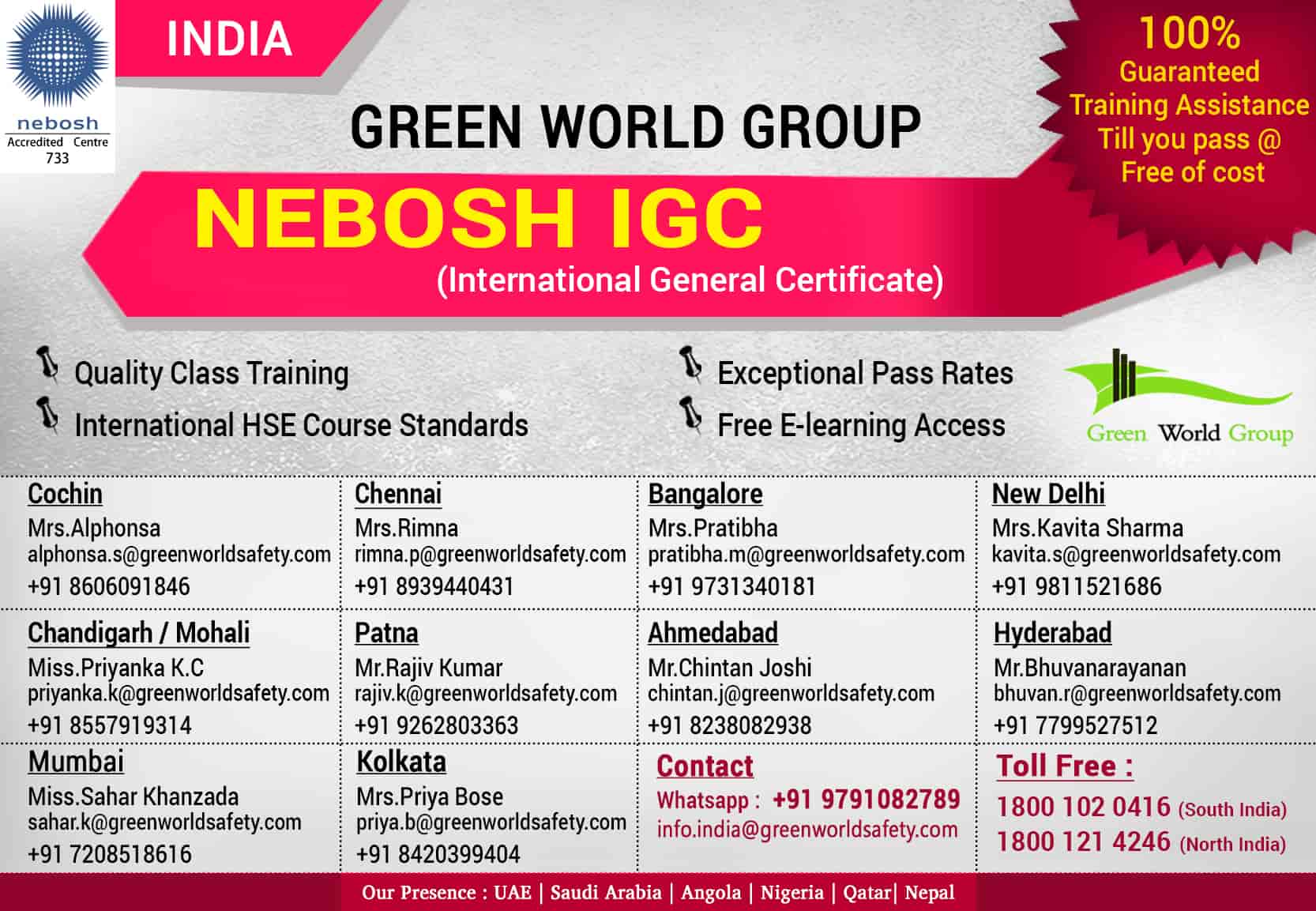 ---
Ask Your Queries
Manipur | Nagaland | Bihar | Mehalaya | Arunachala pradesh
Hyderabad | Telangana | Andhra Pradesh
Maharastra | Goa