Industries require competent safety team to thwart dangers posed by unprotected and unhealthy work environments. The BSS certified Diploma in Industrial Safety authenticates the certificate holders to ensure smooth and incident-free working condition for all by removing potential hazards. Diploma in Industrial Safety equips students with industry-specific risk management skills along with knowledge in critical safety measures, healthy practices and safety regulations.
JOIN DIPLOMA INDUSTRIAL SAFETY  DIPLOMA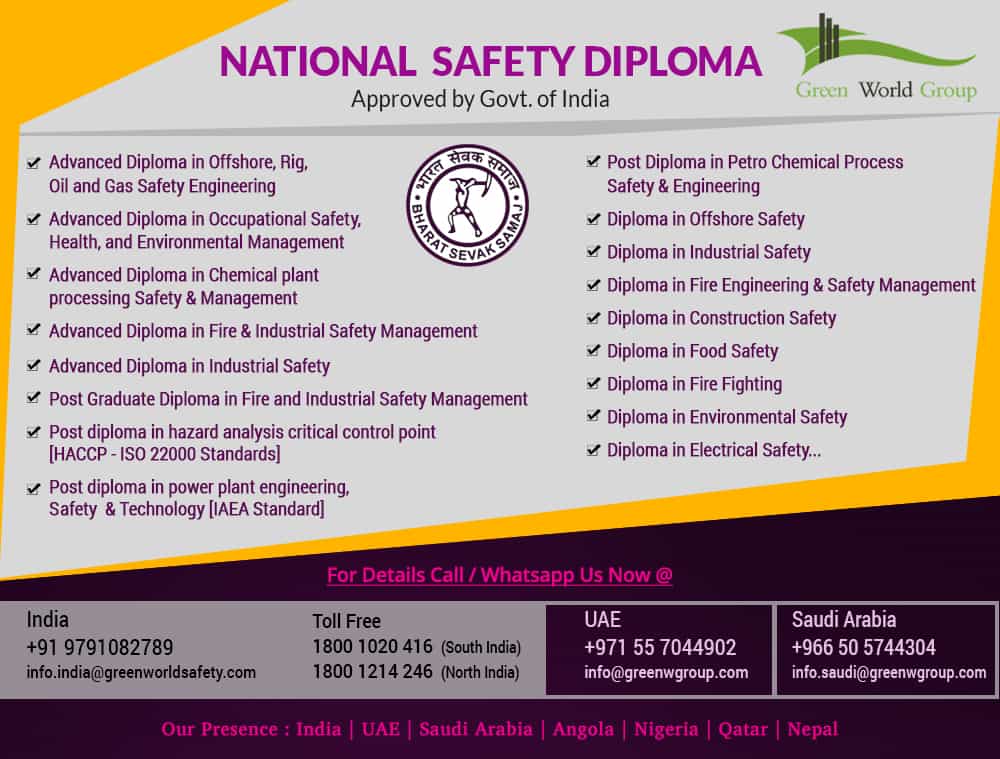 For Registration / Enquiry
Contact Details:
Mr. Ram Kumar
Sr. Academic Counsellor
Mob: +91 8056266636
ramkumar.g@greenwgroup.com
Website Details: www.greenworldsaudi.com, www.greenwgroup.com
Green World Group Training Center
Office # 613, Business Tower #101,
King Abdul-Aziz Street,Jubail city
Kingdom of Saudi Arabia
Tel :+966 13 3638442. Mobile :+966 50 5744304.
---
For Enquiry & Enrollment:
Toll Free 1800 300 20676 (South India) | 1800 121 4246 (North india) | Whats App : +91 9791082789
---