Green World Group has been offering effective learning programs to aspiring HSE professionals and working individuals on various levels of occupational safety and health courses concerned to different industries.  Having its presence in many countries including India, UAE, Saudi Arabia, Nigeria and Angola, the leading education centre is an authorized and affiliated place for learning occupational health, safety and environment courses offered by leading educational boards across the world.
An affiliated centre for learning internationally recognized NEBOSH and IOSH-certified safety courses; Green World Group also offers corporate safety diploma courses certified by BHARAT SEVAK SAMAJ (BSS), a national agency under the Planning Commission of India.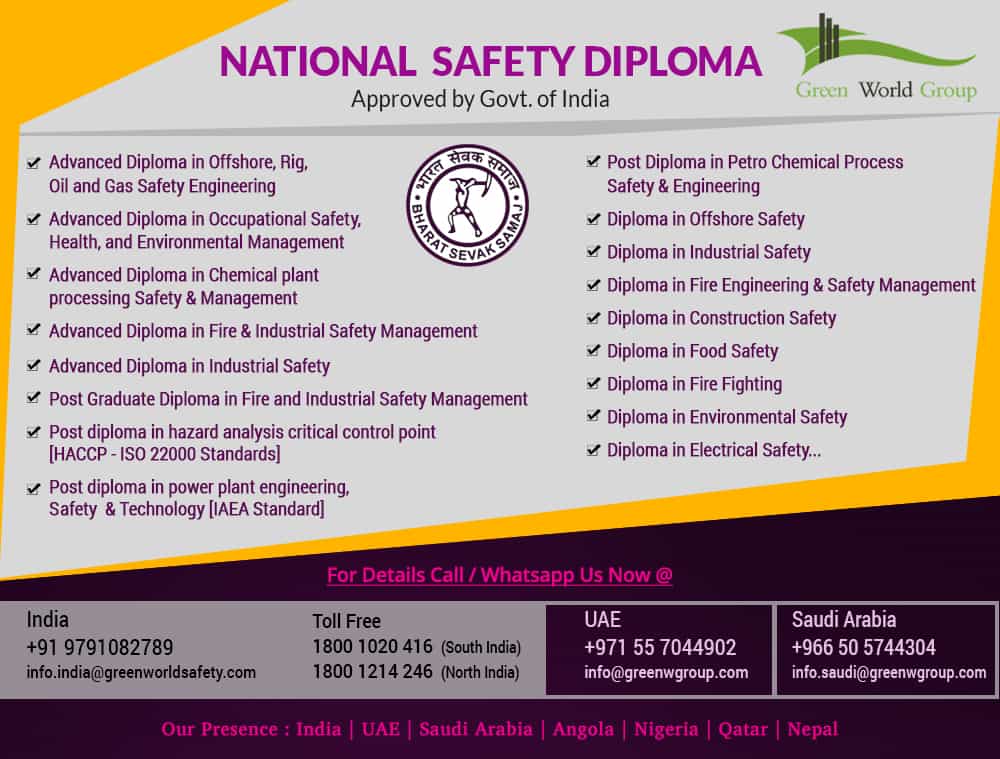 Some of the BSS courses available at Green World Group in India and other countries, include –
Advance diploma in Occupational health, safety and Environmental Management (ADOSHEM),
Diploma in Construction Safety,
Diploma in Offshore Safety,
Diploma in Fire Engineering & Safety Management
Diploma in Environmental Safety
Diploma in Food Safety
Diploma in Electrical Safety
Advanced Diploma in Chemical Plant Processing Safety & Management.
Post diploma in power plant engineering, safety & technology [IAEA Standard]
Post diploma in hazard analysis critical control point
Master Diploma in Offshore, Rig, Oil and Gas Safety Engineering
Master Diploma in Occupational Health, Safety, Environment & Risk Management
---
To study these diploma courses, there is no specific eligibility criterion except the regular perquisites in terms of age and basic understanding level of English language. Offering the courses at competitive cost, students can learn this distance education diploma programs from anywhere they are. And also, those who are willing to do MIIRSM courses, should have a diploma in occupational safety and health with respective the industry he or she belongs to.
Candidates willing to join the safety and health course in India, can contact the GWG's learning places in Chennai, Mumbai, Kolkata, Delhi, Hyderabad & Cochin. Similarly, those who are in UAE can contact Dubai and Abu Dhabi centres while desiring candidates in Saudi Arabia should get in touch with their nearest GWG centers in Jubail, Dammam and Yanbu.
Green World Group offers all the courses in the state-of-the-art environment supported by experienced tutors and well-researched study material. As the courses are well conceived to address the modern day's workplace threats and risks, the certification helps the holders to get recognition from employers across the world.
---
For Enquiry & Enrollment:
Toll Free 1800 121 4246 | Whats App : +91 9791082789
---