Website: www.greenwgroup.co.in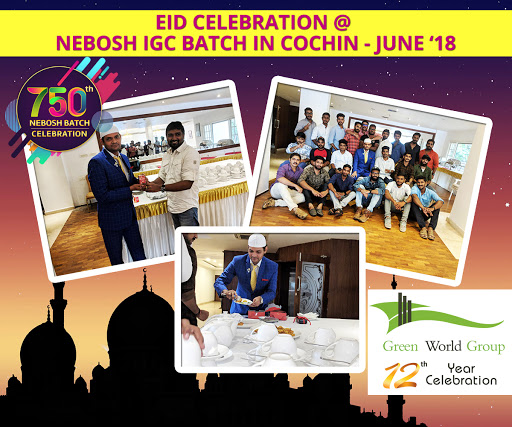 ---
As part of our 750th NEBOSH IGC Batch & EID Grand Celebration, we have Celebrated with our Prestigious Candidates in Cochin during NEBOSH IGC Training Program.
Mr. Jayandran Mohan (Batch Tutor) has shared EID Greetings to all the Candidates and given a speech about EID specialty. At the same time he Quote "DO NOT LEAVE HARD WORK AT ANY POINT OF TIME" in order to strengthen Confidence level among Candidates.
Mr. Jayandran Mohan has chosen Mr. ARUN MANI and he is been Award for "CONSISTENT PERFORMER AWARD" for his consistent quality performance in all 8 Mock Tests which is been conducted during Training Session.
On the other hand, Mr. DARVIN has been Award for "BEST WARRIOR AWARD" for his continuous hard work. He equally performed well and exhibited his fighting spirit though he has very less experience in Health & Safety. Mr. Jayandran Mohan and Mr. Joseph Babu has appreciated and wished him a successful future endeavor.
Last but not least, Mr. Jayandran Mohan served EID sweets to all the Candidates and Thanked Mr. Joseph Babu for encouraging the Candidates and keeping them active.
---
OUR POPULAR SAFETY COURSES:
---
---