'Never-Before' Opportunity with Special packages!!'
Nebosh International General Certification provided by Green World Group which is the leading safety management consultants and training institute.
Limited Seats are Available !! Book your enroll Today!!
Green World Group is now offering for Nebosh IGC in Abu dhabi
NEBOSH IGC – DUBAI & ABUDHABI
Two Level 3 U.K Certif ications in One Package
Join with us Today! To become a Level 3 HSE Professional
NEBOSH IGC – Dubai & Abu dhabi
So far we achieved NCFE Level 3 with 100% Result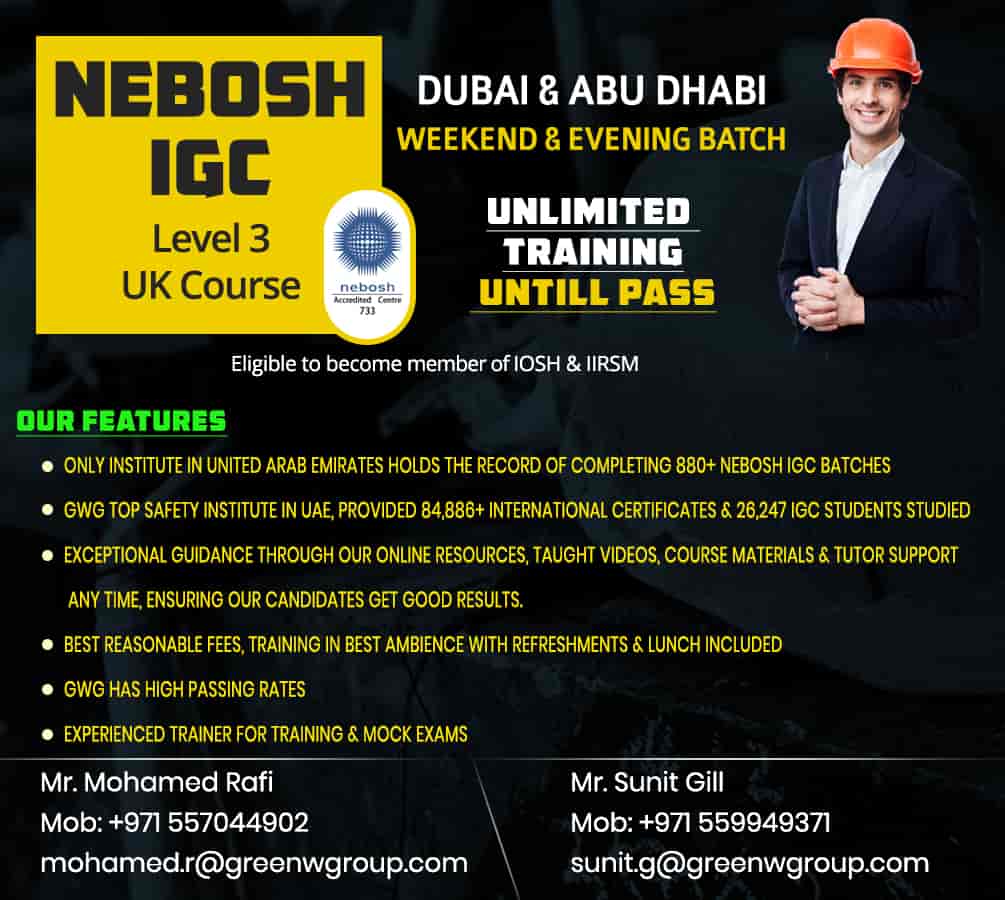 ---
Green World Safety and Security Consultancy LLC
Suite #102,
First Floor, Sapphire Tower,
Near Dnata, Deira, Dubai PO Box -83127
Phone No: +971-04-2698807
Call Us on +971553100292
Email us at info@greenwgroup.com
---
ACADEMIC COUNSELLOR – DUBAI
Mohamed Rafi
Mob: +971 55 7044 902
mohamed.r@greenwgroup.com
ACADEMIC COUNSELLOR – ABU DHABI
Sunit Gill
Mob: +971 55 9949 371
sunit.g@greenwgroup.com
Email: info@greenwgroup.com
Website: www.greenwgroup.ae
A LIMITED TIME OFFER… NEVER MISS IT..
Share this: