At GREEN WORLD GROUP customer service is more than just a title. It is a pledge we strive to pride ourselves on.
GREEN WORLD GROUP now sets a stepping stone by a Refreshment class and Re-examination of NEBOSH IGC for our past students who wish to resit. We are committed to provide you with continued service.
Well, is it a real failure? Certainly not.. for failure is only deferred success Certainly not.. if you could shake the dust off and rise like a phoenix
Life is a long journey. Failures and successes are part of it. It will be highly unwise to expect only to succeed and not to lose. It never happens.
So, get back on your heels, analyze, find out what went wrong and get prepared for the next exam. And you need not even get worried of losing out on time. SO, stop worrying and kick start your preparations today.
We are committed to providing our candidates with a high level of support.
NEBOSH IGC – DUBAI & ABUDHABI
---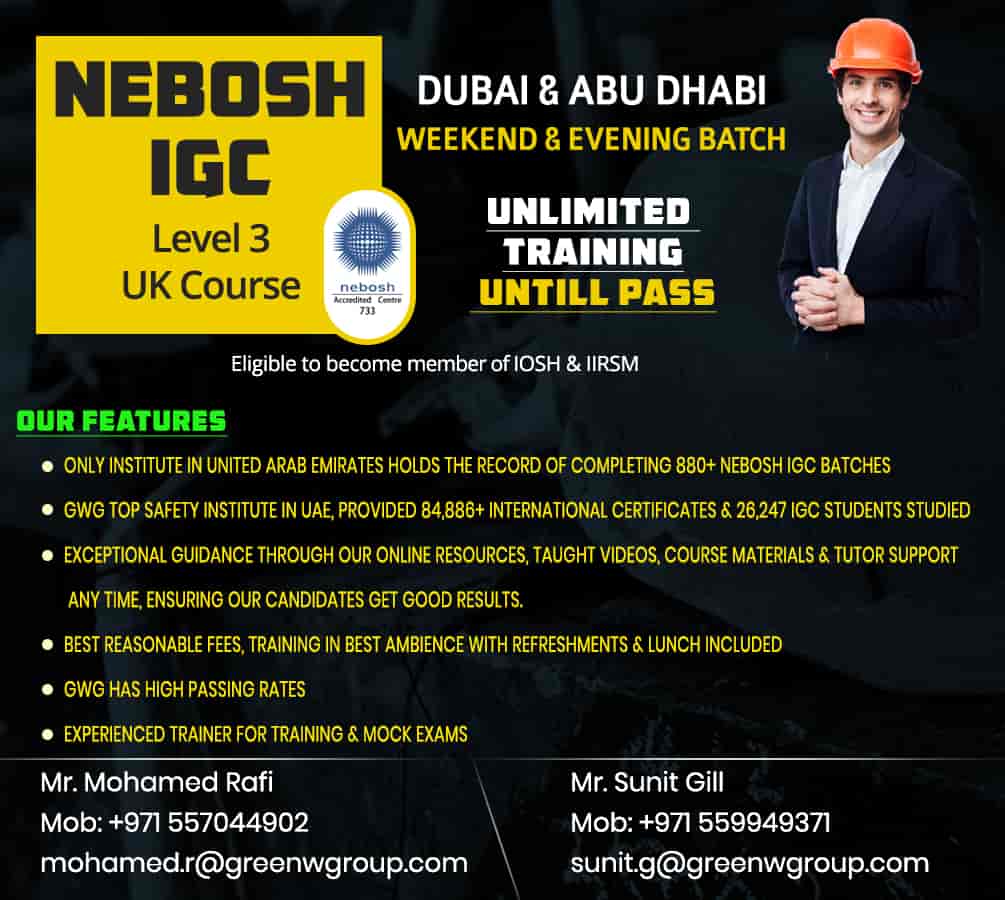 ---
CONTACT
ACADEMIC COUNSELLOR – DUBAI
Mr. Mohamed Rafi
Mobile: +971 55 7044 902
Email: mohamed.r@greenwgroup.com
ACADEMIC COUNSELLOR – ABU DHABI
Mr. Sunit Gill
Mobile: +971 55 9949 371
Email: sunit.g@greenwgroup.com
---
Green World Safety and Security Consultancy LLC
Suite #102,
First Floor, Sapphire Tower,
Near Dnata, Deira, Dubai PO Box -83127
Phone No: +971 42698807
Call Us on +971 557044902
Email us at info@greenwgroup.com
---