Green world group a consultant and an international health and safety course provider with a quality standards, has been pleased to announce that it has introduced in its curriculum. Nebosh International Diploma, which is considered highest qualification in the field of Health and Safety. This course is inducted in the gwg's curriculum as a E-learning course, this enables a participant to attain the qualification from any place with convenience and comfort. This latest addition to our course portfolio has enhanced our impressive range of courses internationally.
The globalization and industrialization pace has seen great organization acknowledging Nebosh as an essential, to acquire good and consistent standards to maintain and protect health and safety of their workers at work place all over the globe. Nebosh international certification is considered a perfect qualification to induce expert standards in health and safety to professionals. Nebosh International Diploma a highest qualification provides a specialized expertise, awareness and erudite in the health and safety which are very essential to build career as a HSE practitioner.
The Nebosh International Diploma in Occupational safety & Health is a one year course, to be qualified the candidate has to successfully complete each module.
The qualification is divided into four units, each of which is assessed separately:
Unit IA: International management of health and safety
Unit IB: International control of hazardous agents in the workplace
Unit IC: International workplace and work equipment safety
Unit ID: International application of health and safety theory and practice
What features green world group a distinguished among others is that its quality and imperial services to assist candidate to achieve these qualification successful.
On qualification of this international diploma, the candidate can apply for Graduate membership IOSH (Grad IOSH), and also can become eligible to become Chartered Safety and Health Practitioner as a Chartered Member of IOSH (CMIOSH).
The qualified member could also become member of International Institute of Risk and Safety Management (MIIRSM)
The Nebosh International Diploma holder can put the designatory letters "IDipNEBOSH" after their name.
There is no prior qualification needed to enroll for this Nebosh international Diploma although Nebosh IGC or any qualification to equivalent to IGC is strongly recommended.
Candidate enrolling this course must have knowledge of Basic English so that they can understand and can be able to reproduce it or articulate.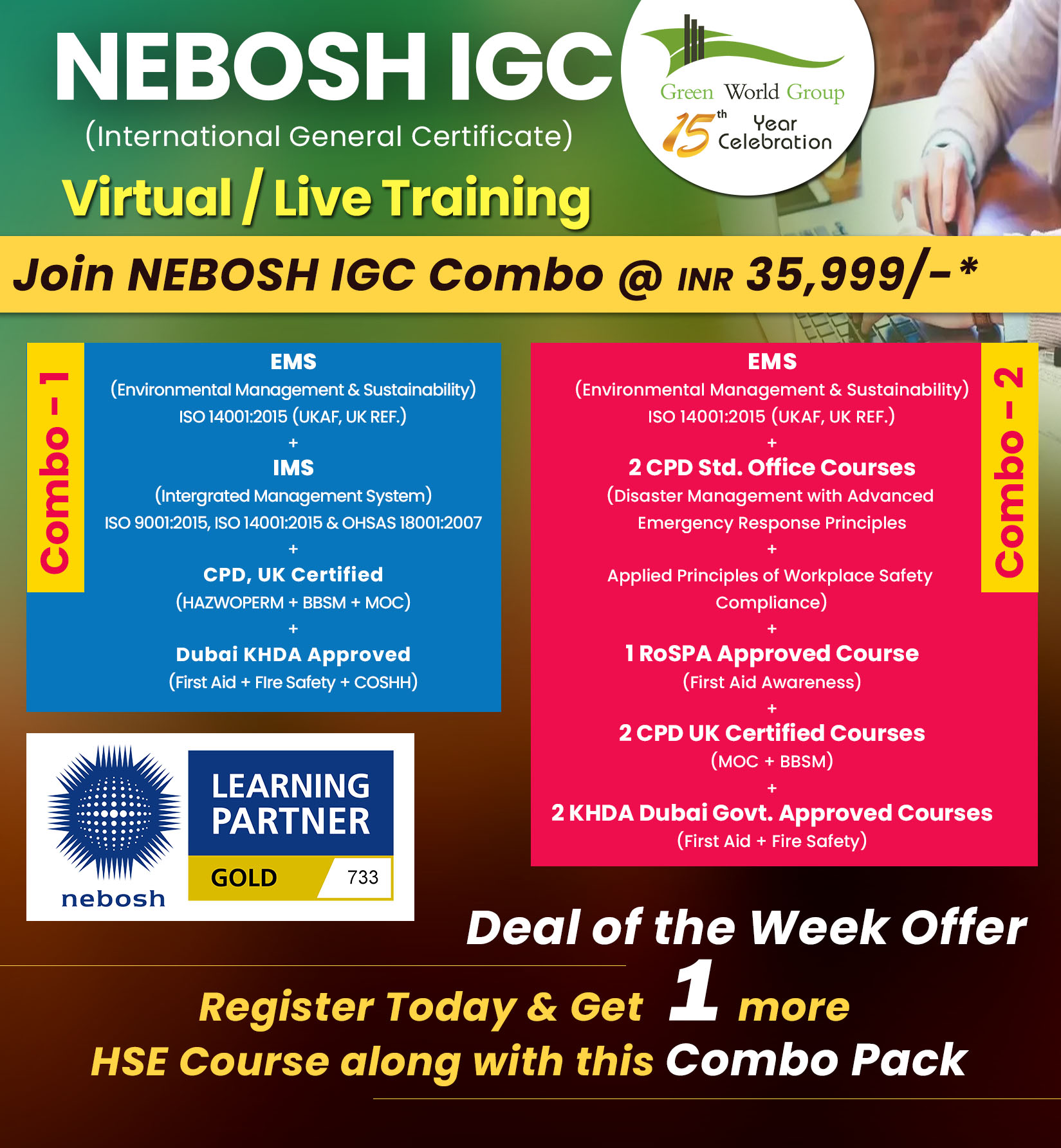 ---
OUR POPULAR SAFETY COURSES:
---
---