The Nebosh International diploma is the qualification for aiming health and safety professionals' structure directly upon the foundation of awareness provided by the Nebosh International General Certificate. It is specially designed to provide college students with the expertise and wherever in the globe they can be working.
This qualification provides the health and safety knowledge which underpins experienced performance as an Occupational Health and Safety Practitioner. A worldwide predictable professional qualification for managers and practitioners with specific responsibility for health and safety in the workplace. This course is covered – risk management, occupational health and safety. The course guides to an internationally recognized qualification.
Green World group is the well-known educational safety training provider and consultant and conducting UK approved HSE certified courses in across the globe. GWG provides special discount offer for Nebosh International diploma certification course at Chennai in India.
Registration is going on…Book your seat now.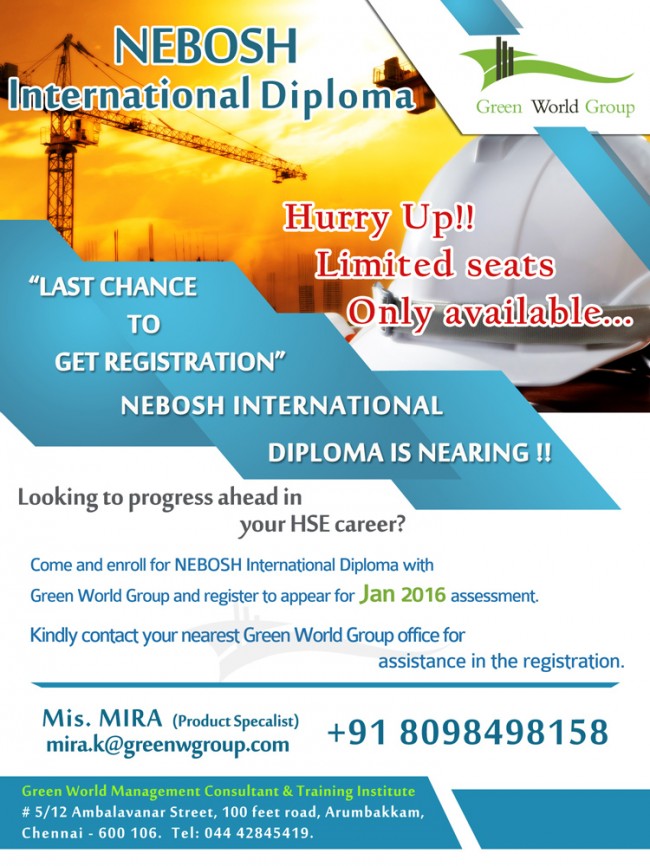 Contact:
Ms. Mira | Product Specialist
Green World Mgmt Consultants & Training Institute,
Address: No.5/12, Second Floor, Ambalavanar Street,
Arumbakkam, Chennai – 600 106, Tamil Nadu – South India.
Phone: +91 44 – 24750740| Mobile: +91 8098498158
Email: info.india@greenwgroup.com
Website: www.greenwgroup.com / www.greenwgroup.ae
INDIA| UAE | OMAN | NIGERIA | ANGOLA | SAUDI ARABIA