Join
NEBOSH IGC @ CHANDIGARH

& Get 
At lowest cost affordable to candidate when compared with other providers in India!
GET FREE TRAINING UNTIL YOU PASS THE EXAM !
Nebosh Course in Chandigarh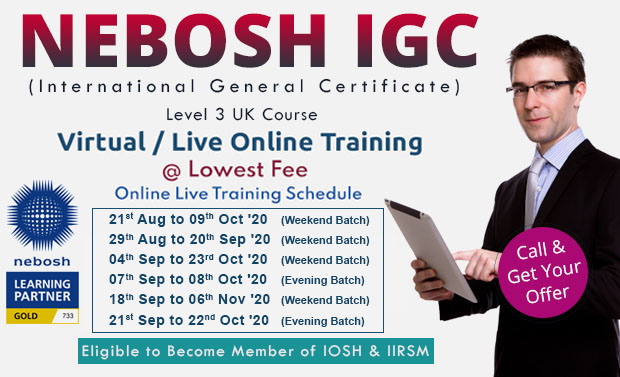 We are one of the experience Nebosh course provider in the worldwide market.
Candidates counseling – ref below points
1.       We will achieve good results by conducting daily assignment, daily test and interaction session
2.       Providing question bank
3.       Model test before final examination
We are seeing an increasing demand for this prestigious safety qualification.
As India first accredited provider of the NEBOSH IGC our customers can put full faith in us that they will get their certificates and that they do not need to deal with any intermediaries for booking themselves on the course.
Contact us today to find out why so many safety officers/supervisors, etc in the India are option to take this safety qualification.
What is the pass mark for NEBOSH IGC?
This is one of the FAQ by each and every IGC candidate.
The NEBOSH IGC contains 3 units, IGC 1 (Health and Safety Management system), IGC 2 (Hazard/Risk identification and control), and IGC 3 (Practical assessment).
The minimum mark to pass IGC 1 and GC 2 is 45% and GC 3 is 60%.
In order to pass in NEBOSH, You should clear all the three units individually because NEBOSH have not set any gradual score to pass the exams.
Do remember while preparing for the exams.
As I have already posted some articles which will assist you to pass your NEBOSH IGC at first attempt.
---
---