If you are passionate job seeker or willing to do something adventurous or different, then NEBOSH qualification in occupational health and safety will be a good idea to get job in health and safety field as safety officer, manager, supervisor, practitioner etc. Jobs are available in number for health and safety across the world. There are multiple course in NEBOSH which makes you to achieve something outstanding.
NEBOSH Certificate:
NEBOSH (National Examination Board in Occupational Safety and Health) qualifications are the best vocational courses for health and safety, which is acceptable and recognized globally.
The NEBOSH awards, certifications, diploma are especially designed to meet up the requirements of health and safety management for both national and international standards, so it is recognized by all over the world. For everybody who wish to enter into workforce, are supposed to consider 3 major reasons to go through NEBOSH qualifications.
Career focused & bright start in the field of occupational health and safety:
Courses of NEBOSH are well- structured in order to earn different level certificates and rewards on your way to get diplomas. If you need a bright starting in health and safety, you must go on for NEBOSH IGC, level 3 qualification which will provide the clear approach for entering into high standard of profession. After the completion of this course successfully you can get the role of health and safety in any kind of organization. This course will be the base course for pursuing NEBOSH IDip, which is a level 6 qualifications, helps in promotion to a higher position.
Must considered approach in some industries:
Many of the higher level organizations, expects to come forward with NEBOSH qualification. They consider those employees with NEBOSH holders are effective in maintaining safety culture at work place. If you are seeking job in any high level organization, this qualification is much valued.
After getting placed in reputable organization, there might occur little things which may cause small or big trouble in any project. It will provide you an opportunity of decreasing the chances of being stupid mistakes which causes hazard for employees and work place.
As NEBOSH courses are affordable for everyone and readily available throughout the world, it is easy to get qualified in NEBSOH from any part of the world.
---
For more details on other hse courses please click here: Safety Training in Mumbai
Toll Free 1800 102 0416 (South India) | 1800 121 4246 (North india) | Whats App : +91 9791082789
Enroll NEBOSH IGC with GWG & Attain Globally Approved Dual Level-3 HSE Qualifications
NEBOSH IGC – MUMBAI @ Get Free Training Until You Pass The Exam !
Click to know the next NEBOSH batch date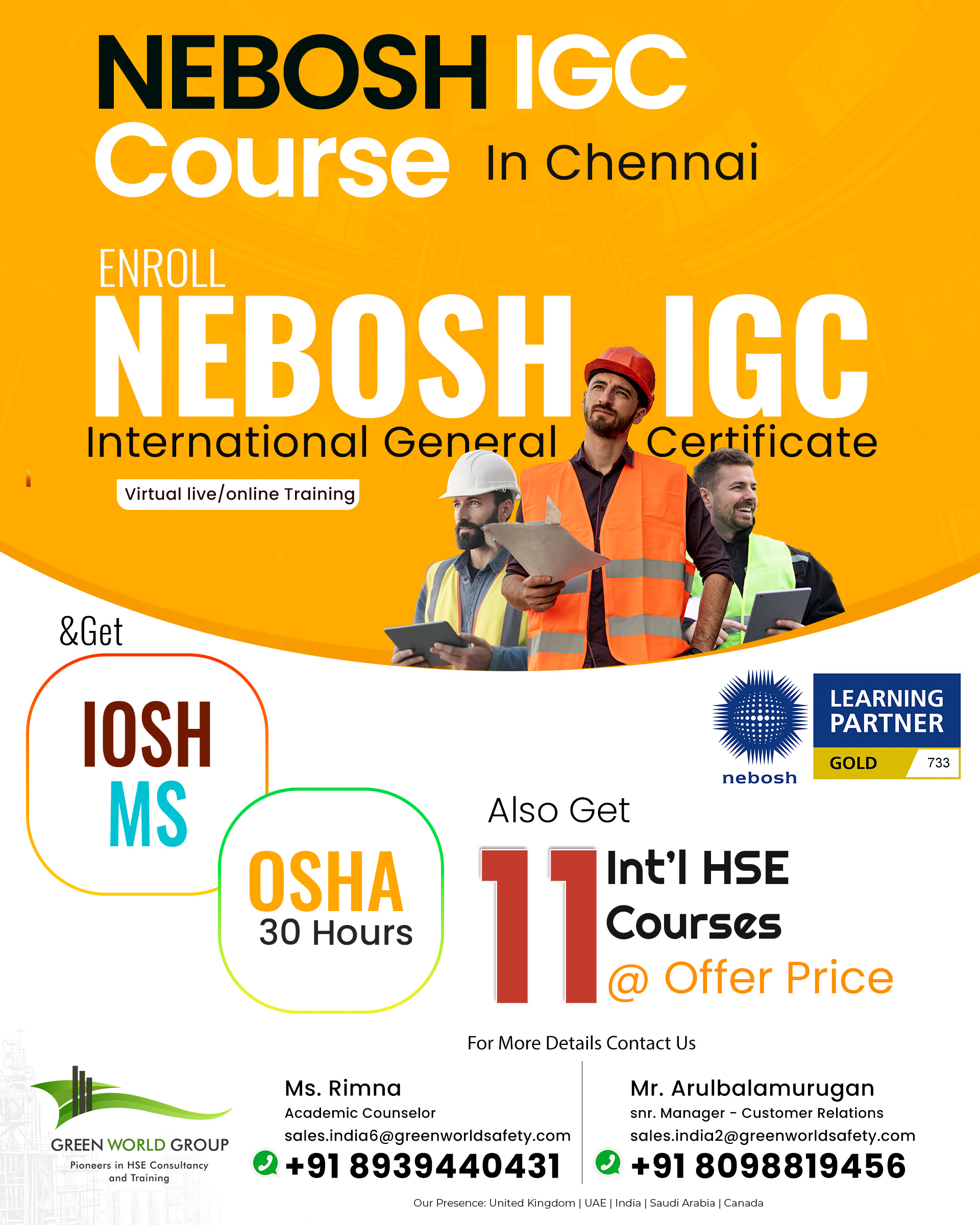 ---
For Enquiry & Enrollment:
Toll Free 1800 300 20676 (South India) | 1800 121 4246 (North india) | Whats App: +91 – 9791082789
---
For other safety courses Offer and Details Please Click: Safety course  in Mumbai
---
Academic Counsellor
Miss. Sahar Khanzada
sahar.k@greenwgroup.com
Mob:
+91 7208518616
---
Green World Management Consultants & Training Institute
Unit No. F- 215, 02nd Floor, Tower No. 07,
International InfoTech Park,
Vashi Station Complex,
Navi Mumbai – 400705
Tel :+022 27814626.
info.india@greenwgroup.com
Email: info.india@greenwgroup.com