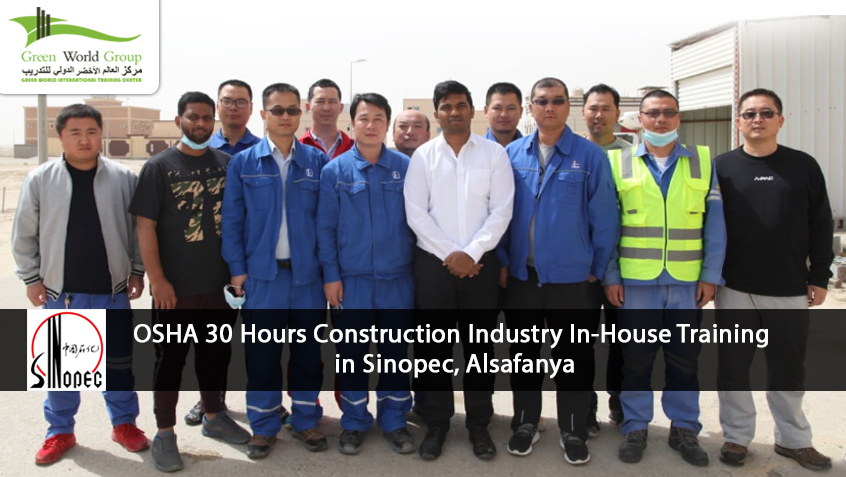 | | | |
| --- | --- | --- |
| Course | : | OSHA 30 Hours Construction Safety |
| Company Name | : | Sinopec, Alsafanya |
| Tutor | : | Mr. Loganathan |
| Website | : | www.greenworldsaudi.com |
"Life itself is your best teacher, all you have to do is, to be in a state of constant learning"
Amidst the widespread of Coronavirus and World Health Organization (WHO) declaring it as a pandemic, we in Green World always are optimistic and set out for another In-house training in a Chinese organization called Sinopec, Alsafanya. Sinopec is a Chinese oil and gas enterprise based in Beijing, China. It is listed in Hong Kong and also trades in Shanghai and New York.
It also produces several biofuels such as biodiesel and green jet fuel, from waste vegetable oil. It also produces ethanol.
Sinopec Limited's parent, Sinopec Group, is the world's largest oil refining, gas and petrochemical conglomerate, headquartered in Chaoyang District, Beijing. Sinopec's business includes oil and gas exploration, refining, and marketing; production and sales of petrochemicals, chemical fibers, chemical fertilizers, and other chemical products; storage and pipeline transportation of crude oil and natural gas; import, export and import/export agency business of crude oil, natural gas, refined oil products, petrochemicals, and other chemicals.
The training topic was OSHA 30 hours construction training and the duration was 2 days. The training started with an initial briefing on precautionary measures for coronavirus and the basic information about OSHA. Then the training transcended to the technicalities of health and safety management, focus four or fatal four. From the initial introduction to OSHA then we moved to different technicalities of various hazards and their control measures. The training concluded with a small assessment and a quick refresher session.
---
---