For Any Enquiry On Safety Courses Click Here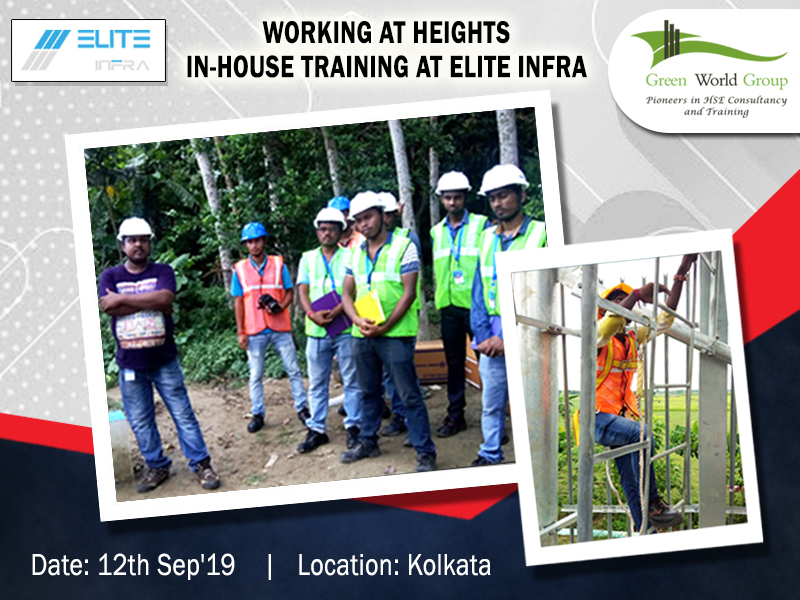 Green World Group conducted the In-House Training program about the topic of Work at Height Training for the employees of Elite Infrastructure, Kolkata on 12th September 2019.
Mainly this Work at Height Training has been designed for the professionals who are working in the heights like towers, high rise buildings, etc… and the total duration of this training is 4 to 8 hours. The topics covered in the In-House training session was,
Basic hazards of Work at Height
Preventing Falls and Falling materials
Emergency Rescue
Inspection of Access Equipment
Minimizing Distance and Consequence of a fall
Head Protection
Safety working practices for Access Equipment
About Green World Group:
Green World Group is the topmost training institute for all types of accredited Safety courses all over the world such as NEBOSH, IOSH, ISO 45001:2018 Lead Auditor Course, ROSPA, CPD, NCFE, and also the National Safety Diploma Courses which are promoted by BSS and approved by Government of India. These courses can learn through classroom mode, distance learning mode and for working professionals, it will be delivered through In-House training.
OUR POPULAR SAFETY COURSES:
---
---