Greetings From Green World Group – Mumbai !!!
Green World Group proudly announces for Nebosh course in mumbai and  NEBOSH IGC MUMABI !!!
Enroll NEBOSH IGC with GWG & Attain Globally Approved Dual Level-3 HSE Qualifications !!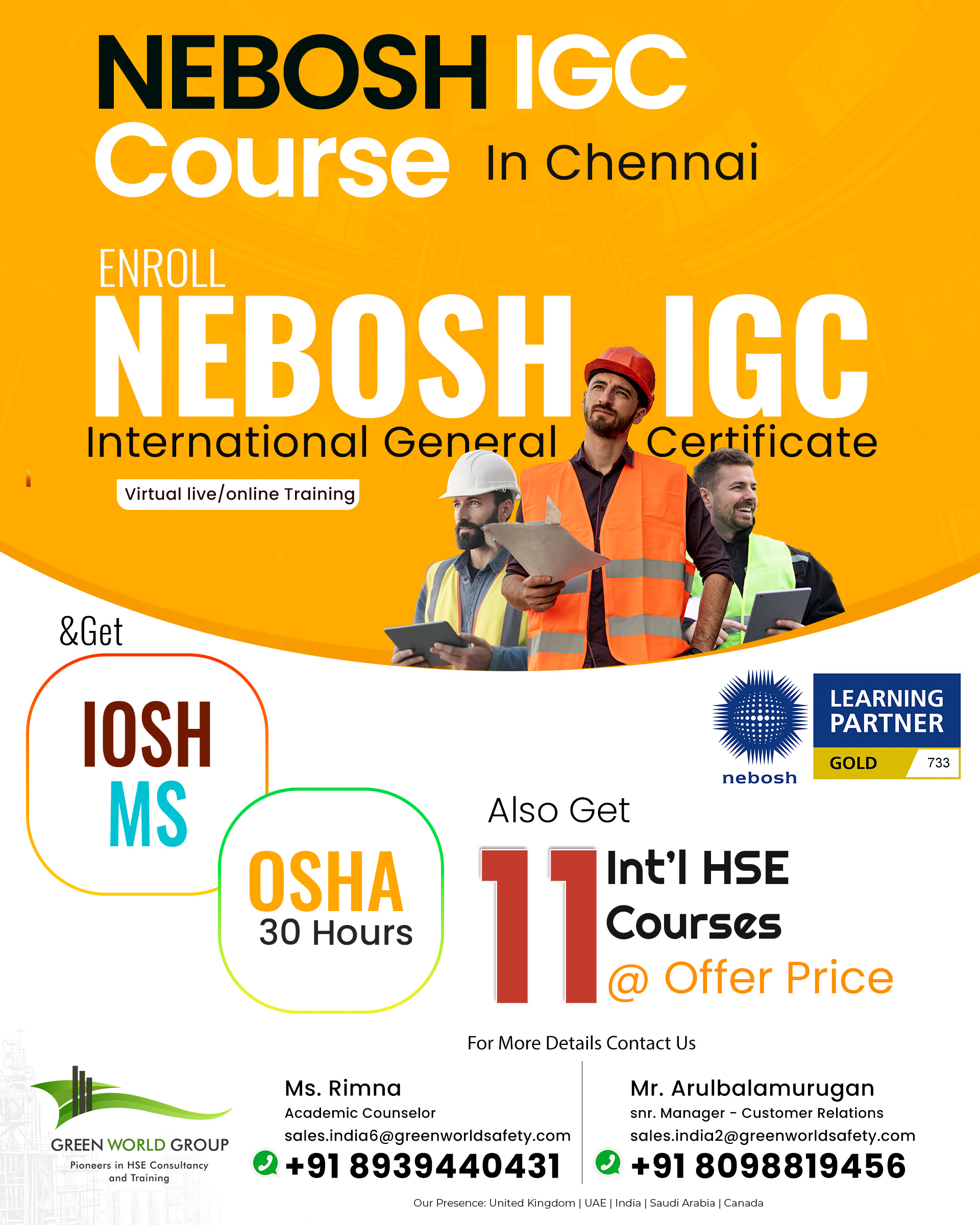 ---
Safety Training – Some workers who ignored what they were taught survived, by not entering the accommodation block which eventually failed and sank into the sea, but in general training in emergency procedures on and off the platform was lacking. In particular management leadership was especially inadequate in dealing with such emergencies.
It is a vital that lessons are learned from all major incidents, as a management, cultural and technical failures must be understood so that incidents can be prevented from happening again.
To identify the intermediate and root causes of the incident – incidents are usually caused by unsafe acts and conditions in the workplace, but these often arise from underlying or root causes.
To identify corrective actions that will prevent a recurrence – the main reason for investigating.
To record the facts of the incident – people do not have prefect memories and investigation records document the factual evidence for the future.
For Legal reasons – incident investigations can be an implicit legal duty imposed on the employer.
For Claims management – if a claim for compensation is lodged against the employer the insurance company will want to examine the incident investigation report to help determine liability.
For staff morale – non-investigation of incidents has a detrimental effect on morale and safety culture because workers will assume that the organization does not value their safety.
For Disciplinary purposes – although blaming workers for incidents has a negative effect on safety culture, there are occasions when an organisation has to discipline a worker because their behaviour has fallen short of the acceptable standard.
For data gathering purposes – incident statistics can be used to identify trends and patterns; this relies on the collection of good quality data.

Safety Officer Institute in Mumbai
---
For other safety courses Offer and Details Please Click: Safety course  in Mumbai
Miss. Sahar Khanzada
Academic Counsellor
sahar.k@greenwgroup.com
+91 7208518616
---
Green World Management
Unit No. F- 215,
02nd Floor, Tower No. 07,
International InfoTech Park,
Vashi Station Complex,
Vashi, Navi Mumbai – 400 705
Phone: +91-022 27814626 | Mobile:+91 7208518616
Email: sahar.k@greenwgroup.com | Website: www.greenwgroup.co.in
INDIA| UAE | OMAN |NIGERIA | ANGOLA| SAUDI ARABIA
---
For Enquiry & Enrollment:
Toll Free 1800 300 20676 (South India) | 1800 121 4246 (North india) | Whats App: +91 – 9791082789
---