Green World has successfully completed a 12 day 'NEBOSH IGC training' for the Senior Management team at Almarai company. The mid-management team from all remote Almarai offices spread across KSA attended the 12 days program and appeared for the examinations on the 13th day.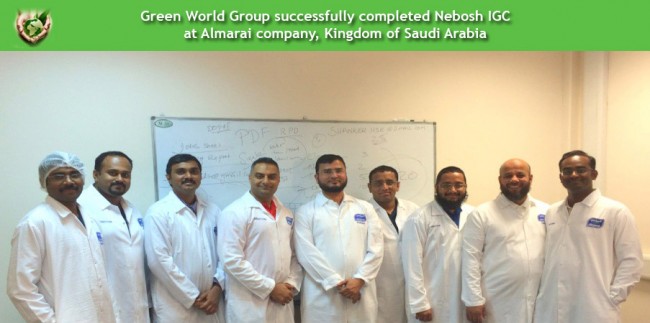 Considering the rapid growth of Almarai as one of the largest dairy and farm based products producer in the Middle East, the primary objective was to enhance their Health and Safety expertise by providing quality training and various other Health and Safety consultancy opportunities. Almarai has an expansive fleet of over 1500 tankers, trailers, tractor heads and nearly 3,000 vans which undertake over 100,000 trips annually. Over 30,000 dedicated staff work in their factories located across various locations in the Middle East.
As an initial step, the Senior Management had decided to make a provision of NEBOSH IGC training to all their Senior Manages under the Sales Division over a 13 day schedule. The training sessions were done at Hotel Mercure Grand in Riyad, KSA. Two separate tutors with extensive HSE experience were allocated for this training.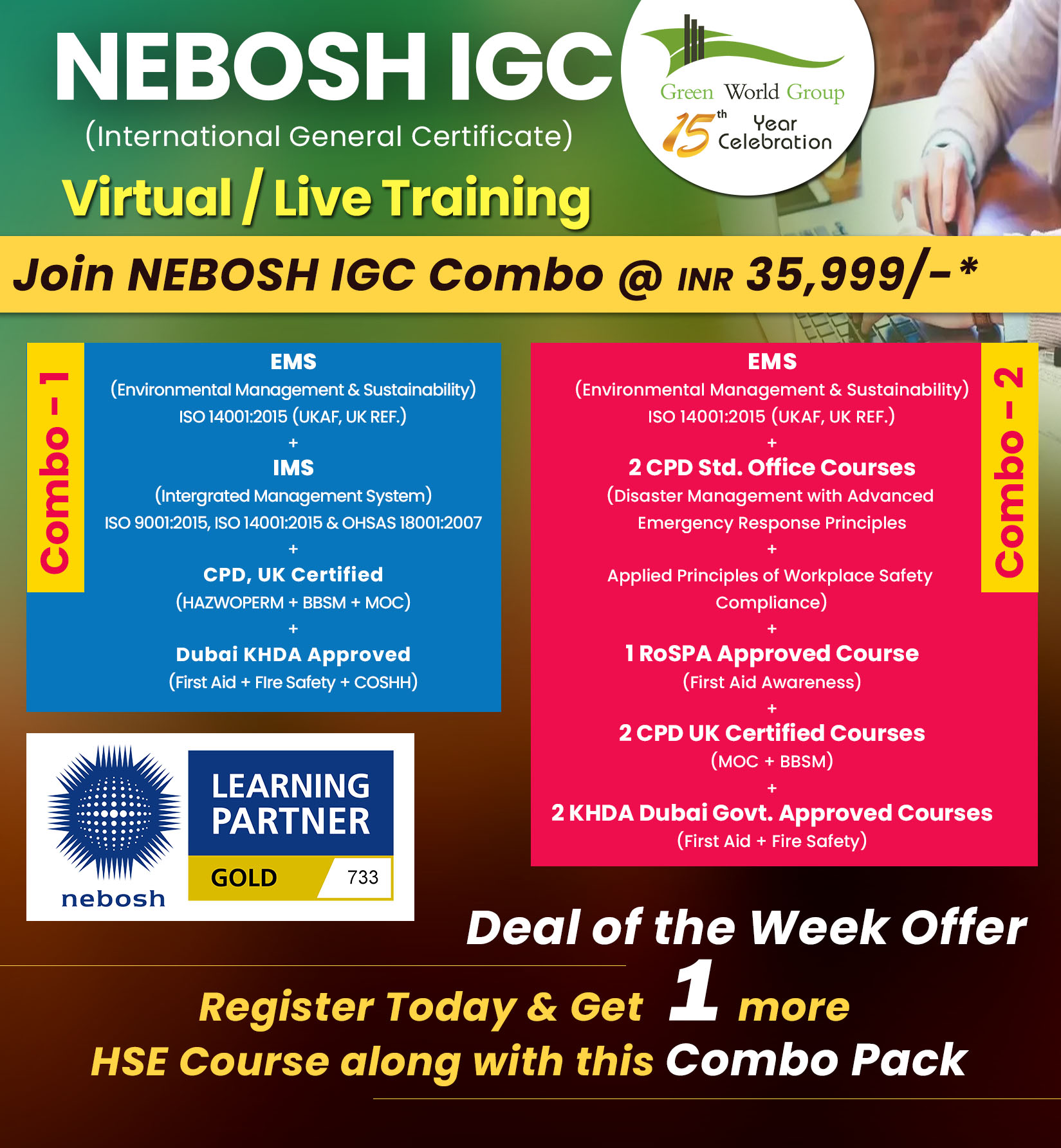 The following topics were covered in the 13 days training.
Element 1
– Foundations in Health and Safety
– Health and Safety Management Systems 1 – Policy
– Health and Safety Management Systems 2 – Organising
– Health and Safety Management Systems 3 – Planning
– Health and Safety Management Systems 4 – Measuring, Audit and Review
Element 2
– Workplace Hazards and Risk Control
– Transport Hazards and Risk Control
– Musculoskeletal Hazards and Risk Control
– Work Equipment Hazards and Risk Control
– Electrical Safety
– Fire Safety
– Chemical and Biological Health Hazards and Risk Control
– Physical and Psychological Health Hazards and Risk Control
The third element Workplace Inspection & Report to Management.
Below is a testimonial from Mr. Baj Bharj, Divisional Quality, Safety, Health & Environment Manager, Sales Division.
"I would like to thank you on behalf of Almarai for conducting and delivering the NEBOSH IGC to the QSHE team of the Sales Division.
Green World Group as a training provider has proven & demonstrated to Almarai that they are competent & knowledgeable to deliver the NEBOSH IGC in the most professional manner possible. Both tutors Shanker & Kamal have provided the training in the most professional & proficient manner and their subject knowledge pertaining to Occupational Health & Safety are outstanding & stupendous. My teams were overwhelmed with the knowledge of both tutors who gave practical examples of various scenario to better explain various topics, we have all leant so much about Health & Safety and as a result have all become significantly more competent in this discipline.Almarai will certainly continue to use Green World group as a service training partner, we would like to thank you for an excellent service provided, and I look forward to receiving some very high standard results from NEBOSH in the UK".
This successful stint of NEBOSH IGC training experience with Almarai company has now lead to an extensive training requirement which would be scheduled in the coming months with Green World Group as the preferred training partner.
https://www.facebook.com/GreenWorldGroupManagementAndTrainingInstitute