850th BATCH OFFER !!
At lowest cost affordable to candidate when compared with other providers in India!
GET FREE TRAINING UNTIL YOU PASS THE EXAM !
Quality Class Training
International HSE Course Standards
Exceptional Pass Rates
Free E-learning Accessf
Lowest Fees Compared to Other Institute with Lots of Benefit & Features
Click to know the next NEBOSH batch date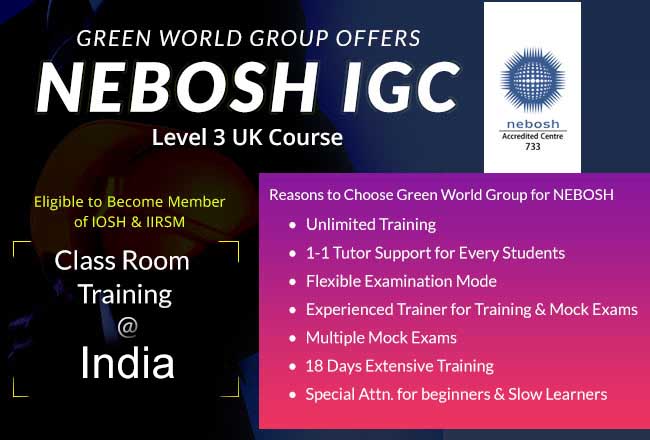 ---
How to clear Nebosh IGC Exam?
Be serious during the preparation time
Concentrate on learning outcomes which make you to pass in NEBOSH IGC
Collect sample answers from ww.nebosh.org
Tips to get succeed in NEBOSH IGC
Do understand the concepts; instead memorizing it.
Prepare a notes from lectures, or whenever you learn.
Keywords play a vital role: Make use of it effectively.
How can I get distinction in NEBOSH EXAMS?
If you deliver the answers, what NEBOSH expects, there is scope of gaining marks above 90%.
Read the question and deliver the relevant answer, don't write what you 'feel'.
---
For Enquiry & Enrollment:
Toll Free 1800 102 0416 (South India) | 1800 121 4246 (North india) | Whats App : +91 9791082789
---
GREEN WORLD MANAGEMENT CONSULTANTS & TRAINING INSTITUTE
Solo Cubes, Sanikams building 2nd floor,135,
MIG, 60 feet road, 1st Cross Rd,
KHB Colony, 5th Block,
Koramangala, Bengaluru, Karnataka 560030
Mob :
+91 9731340181
E-mail: 
info.india@greenworldsafety.com
---
Miss. PRATIBHA (Academic Counsellor & Admin)
Telephone: +91 9731340181
Email: pratibha.m@greenworldsafety.com