Dear All,
NEBOSH IGC Course Overview
The NEBOSH International Certificate provides organizations with a global presence seeking to adopt an internationally recognized health and safety training programme. It is a unique international health & safety standard award. It has the same format & content as the National Certificate but focuses on internationally recognized health & safety standards and priorities (ILO/18001) and best practices in controlling hazards.
Learning Outcome of NEBOSH IGC Training Course
Understand best practice standards through HSG65, 18001, moral & economic requirements and implications for good standards in safety & health within an organisation
Develop, promote & communicate an effective health and safety culture in an organisation
Identify the key features of a health & safety policy, the preparations & performance review of a health & safety audit
Understand the importance of proactive and reactive health and safety monitoring measures
Identify hazards in the workplace & carry out risk assessments, record findings & review procedures
Advise on strategies for controlling hazards, reducing risks & applying safe systems of work
Identify fire hazards & consequential risks, advise on measures to minimize fire risks & develop fire procedures
Identify ill health effects of physical processes of work & the environment & recommend suitable measures to combat risks
Explain the processes & procedures for investigating & reporting accidents at work
Who the NEBOSH IGC course is for?
The NEBOSH International General Certificate has been designed for safety professionals, managers, supervisors who are responsible for health and safety at their workplace and wants a basic knowledge and understanding of the principles and practices of health and safety.
Enroll NEBOSH IGC with GWG & Attain Globally Approved Level-3 HSE Qualifications
NEBOSH IGC – BANGALORE @ Get Free Training Until You Pass The Exam !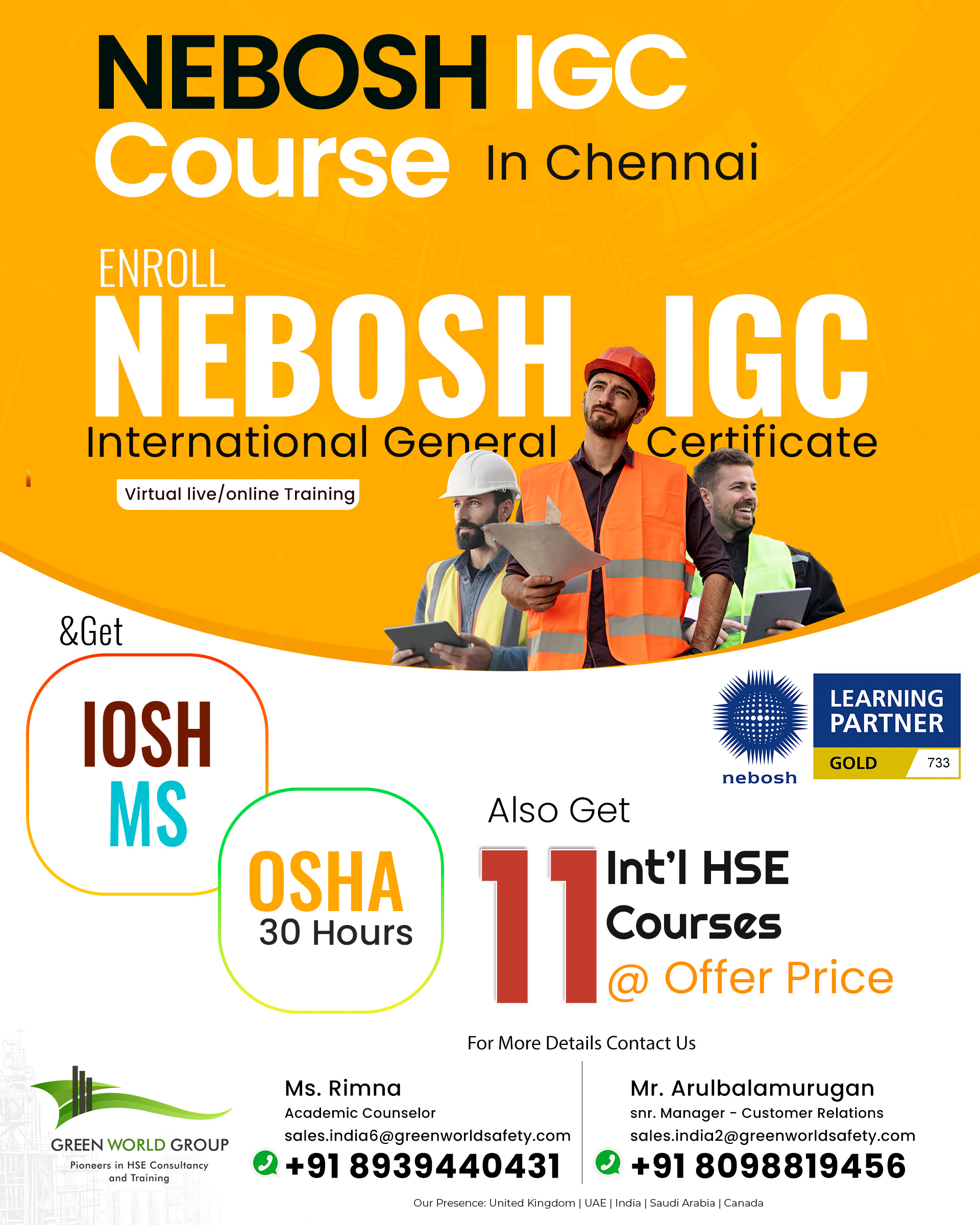 ---
Yearly Course Calendar – 2012

Month
Course
From
To
Location
 AUG
NEBOSH IGC
16.08.2012
26.08.2012
COCHIN
 AUG
NEBOSH IGC
27.08.2012
06.09.2012
NEW DELHI/ CHENNAI
 SEP
NEBOSH IGC
24.09.2012
04.10.2012
KARAIKAL/PATNA/BANGALORE
 OCT
NEBOSH IGC
29.10.2012
08.11.2012
NEW DELHI/CHENNAI/COCHIN
 NOV
NEBOSH IGC
26.11.2012
06.12.2012
KARAIKAL/MUMBAI
 DEC
NEBOSH IGC
24.12.2012
03.01.2013
NEW DELHI/CHENNAI
September Batch – Bangalore
| | | | | |
| --- | --- | --- | --- | --- |
| SEP | NEBOSH IGC | 24.09.2012 | 04.10.2012 |  BANGALORE |
International General Certificate Course Syllabus
IGC 1: MANAGEMENT OF INTERNATIONAL HEALTH & SAFETY
Element 1: Foundation in health and safety
Element 2: Health and safety management system – Policy
Element 3: Health and safety management system – Organizing
Element 4: Health and safety management system – Planning
Element 5: Health and safety management system – Measuring, audit and review
IGC 2: CONTROL OF INTERNATIONAL WORKPLACE HAZARDS
Element 1: Workplace hazards and risk control
Element 2: Transport hazard and risk control
Element 3: Musculoskeletal hazards and risk control
Element 4: Wok equipment hazards and risk control
Element 5: Electrical safety
Element 6: Fire safety
Element 7: Chemical and biological health hazards and risk control
Element 8: Physical and psychological health hazards and risk control
IGC 3: INTERNATIONAL HEALTH AND SAFETY – PRACTICAL APPLICATION
Duration of NEBOSH IGC Training Courses
11 days for the block release
Examination for NEBOSH IGC Certification
The examination consists of two theory papers IGC-1 and IGC 2 of each 2 hrs and followed by a practical assessment. Each written paper consists of one 'long-answer' question and ten 'short-answer' questions. All questions are compulsory.
NEBOSH Certification
On successful completion of theory and practical examinations candidate will receive international general certificate from NEBOSH.
Acceptance of NEBOSH International General Certificate
This is one of the most highly demanded entry level qualification for safety professional in UK & Europe and Middle-East. This for those who are seeking a new career in health and safety and those in the profession who wants to top up with internationally recognized certification to enhance their employability in MNC.
In recent years, Indian companies have been asking this qualification in addition to qualification recognized under the Factories Act and Rules because of their global presence and joint venture with foreign companies.
For Enquiry & Enrollment Contact Undersigned,
---
GREEN WORLD MANAGEMENT
CONSULTANTS & TRAINING INSTITUTE
Noval Business Park
#57, 13th Cross, Gajendra Nagar
Adugodi Area,Anepalya, Bengaluru – 30
Tel : +080 88064432
E-mail: info.india@greenwgroup.com
---
Miss. PRATIBHA
Academic Counsellor & Admin
Email: pratibha.m@greenwgroup.com
Telephone: +91 919731340181
Email: info.india@greenwgroup.com
Website: www.greenwgroup.com
---
For Enquiry & Enrollment:
Toll Free 1800 300 20676 (SOUTH India) | 1800 121 4246 (North india) | Whats App: +91 – 9791082789
---